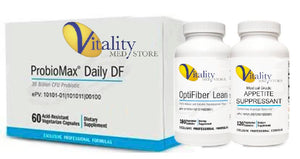 Vitality Med Store
Weight Loss Package and Diet Plan
Regular price
$189.70
Sale price
$327.00
Unit price
per
We treat patients in all 50 states!
This plan includes:
Doctors Video Consultation

Personalized Diet Plan

Weight Loss Products
Weight loss without help can be difficult for most of us. That is why we offer a Doctors Consultation, Supplement Bundle and a Diet Plan as a comprehensive package. Our Doctors have helped over 75,000 men and women lose weight for over 14 years. We are experts and want to help you lose weight. 
This Weight Loss package contains the very best products to help burn fat, reduce appetite and maximize digestion. They work at different angles to help you to see results and allowing your body to eliminate toxins and reduce cravings. And, to top things off, 100% of our products are REAL Medical Grade, not retail grade and never contain any fillers. 
* Appetite suppressant. Too often we snack, eat large portions or eat too often without even knowing it. Although we may seem like we are not eating large amounts, we in fact are. Over time, the excessive calories are being stored and the added weight slowly adds up. This appetite product is very effective in reducing appetite and allowing us to function better using our reserves as energy. 
* Fiber. Most products that contain fiber are helpful in moving things along in the digestive tract. However, our Fiber supplement is also engineered to help to feel full, for longer periods of time. Thus we have a second plan to attack to reduce appetite, the enemy to weight loss. 
* Probiotics are not all created equal. In fact, most are not undergoing the full process of production which means they are not very helpful in the gut. Our probiotics contain real microorganisms that help with digestion, immunity against sickness, brain function and more. Once your gut is in optimal condition, it will allow you to digest food properly which means less fat storage!
If you are looking for a healthy and complete weight loss package, this is it! We include a video Doctors Consultation and Diet Program included to make it even more effective. Order today to start your weight loss transformation!
This package contains:
Appetite suppressant 120 capsules
Fiber Lean 180 capsules
Probiotics 60 capsules
Weight Loss Consultation with a Doctor
Diet Program
These products have not been evaluated by the Food and Drug Administration. This product is not intended to diagnose, treat, cure, or prevent any disease.
---
Share this Product
---